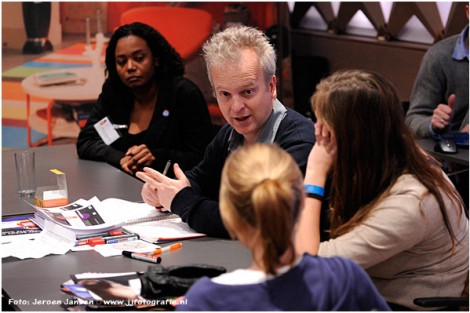 About
After graduating from Lawschool in 1991, Robert Alberdingk Thijm (1965) chose for a carreer as a screenwriter. He started writing episodes for the popular sitcom 'In de Vlaamsche Pot' and created shows for children's network VPRO's Villa Achterwerk, like 'Meneer Rommel' and 'Zeeuws Meisje'. Together with director/writer Jean van de Velde he translated the cinema success 'All Stars' to a successful tvseries.
In the scripts written by Robert, ordinary people are always at the centre. By wrting with a personal and detailed view, the viewer is drawn closer to the characters' everyday life, in a new and intriguing way.
Whether it involves six year old boys, like in 'The Daltons' (Rita Horst, 1999), or the sixteen year old girls in 'Dunya and Desie' (Dana Nuchshtan, 2003), a circusfamily in 'Waltz' (Norbert ter Hall, 2006), or a kaleidoscope of people in Amsterdam, portrayed in 'Amsterdam Paradise', in the hands of different directors, Robert's work always results in surprising and award-winning tvdrama.
Together with director Norbert ter Hall, Robert created the Christmas series 'Ollie Hartmoed's Palace of Draperies' shown in december 2011 on VPRO's Zapp, and in january 2012 on VRT's Channel One.
Robert's series 'The Daltons' and 'Dunya and Desie' were both nominated for an International Emmy Award, and won various (international) awards, like the Prix Jeunesse, Premios Ondas, Cinekid Kinderkast. The featurefilm 'Dunya and Desie' was the Dutch Oscar-entry in 2009. In 2011, The tvseries 'Amsterdam Paradise' won various awards, including the Golden Statue award and the French Prix de la Fiction, meilleure fiction Européene et Internationale.
His work has been broadcasted in various European countries, including Sweden, Finland, Norway, Germany and Belgium.
Robert also advises young screenwriters whilst realising their own drama productions, and hosts masterclasses in writing for the screen in Amsterdam, Brussels, Berlin and Santiago de Chili. He is the secretary to the Lira foundation and member of the board of the Authors Leagl Aid Foundation.
In december 2012 Robert received the 'Edmond Hunstinxprijs dramawriting' for his entire oeuvre.